Company Background
We are a North Carolina‐based company near the heart of many of today's major power and process plant service providers' main USA offices such as Areva, B&W, CBI, CH2M, Duke Energy, DZ Atlantic, TEi, and Valmet.
With the goal of enhancing financial awareness and cost control, we set up and implement management processes that enable our clients' project and site management teams to efficiently and effectively execute their new construction and plant outage projects.
We provide support using tools that increase financial awareness, enhance cost control, and amplify the project management process.
Our associates have worked as Owners, Contractors, and Consultants. This provides us with a rounded experience base on what Owners expect from their contractors and what Contractors need from their clients. It enables us to provide win‐win solutions to most every issue.
Professional Associations
Our associates belong to and participate in a host of professional organizations including:
The American Society of Mechanical Engineers (ASME)
American Bar Association – Forum on Construction Law and TIPS (Tort Trial & Insurance Practice Section)
The Lean Construction Institute (LCI)
Common Arc
The CLM (Claims and Litigation Management Alliance)
Additionally, we are a Small Business as certified by the Small Business Administration (SBA) and registered in the US Government's System for Award Management (SAM) e‐procurement system
Experience
For over 20 years, CBA has been at the forefront of using tried and true processes for providing business management services to owners, contractors,  consultants, and attorneys in the power and chemical process construction industries. Our associates have been involved in power generation projects totaling well over 100,000 MWs, ranging from coal‐fired to oil‐fired and from gas‐fired to renewable including biomass. Electric and gas transmission and distribution projects form a part of our portfolio. And we also work with the chemical process industry (CPI) building and commissioning new or expanding existing facilities.
We work with our clients to bring clarity to projects. We assist in developing management processes that not only clarify what is happening at the moment, but also what will happen tomorrow and beyond. When you self‐perform any part of the work, we help ensure that the processes you use do exactly this. If you contract out any part of the work, we help you determine if your contractor is at the top of his game and is also using similar processes, i.e. seeing if he is using his A-team. We have done this many times in the past.
We accomplish all of this by working with our clients to establish processes and select tools that will show value achieved for effort expended. We help our clients monitor, measure, and manage many of the project's physical parameters such as quantities of materials, parts, and structures installed, e.g. cubic feet of concrete, tons of steel, feet of piping, equivalent welds, wiring terminations, etc. But we also assist in setting up processes to monitor, measure, and manage the non‐physical parameters such as cash flow, manhours, safety, quality, and more. With the subsequent integration of the physical with the non‐physical, our approach clearly shows where a project is headed, or has been, in terms of value for effort expended and in terms of cost and schedule.
We are thought leaders. We don't just go where the path may lead. We also go where there is no path and leave a trail - e.g. when reviewing a recent claim against an owner for cost and schedule overruns, we showed how the contractor's management turnover was the root cause of the project's failure to meet the cost and schedule goals.
The value we bring is derived from the experience of working with many diverse clients, many of whom have similar needs but require different solutions. Please contact us for more information, and to see if our services fill a need you may have.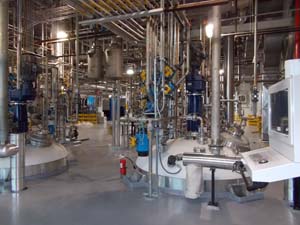 BYK Chemical Processing Plant
$50 Million Plant Expansion
Wallingford, Connecticut
Courtesy of Construction Business Associates
Our clients range in size from small Independent Power Producers to mid‐size specialty contractors. They also include very large General Contractors as well as Fortune 200 Owners and US Government agencies.
Attorneys frequently seek us out when an in-depth analysis is required for forensic review of what transpired during a project heading towards or already in litigation.
And in those instances where our services are not the right fit, we still connect the client to someone who can satisfy their needs.
Typical Client Testimonials
After a rigorous forensic analysis of a gas transmission pipeline project failure and subsequent enhancement of the project management process, Mike Cashell, VP – Transmission at NorthWestern Energy said: "You and your associates have been very helpful as we developed the enhancements to our project management process. We will certainly keep you informed of our progression and any further needs. Thank you again."
Upon the successful completion of a $50 million chemical process plant expansion for BYK, a division of the German firm Altana, BYK USA's Sr. Manager of Manufacturing, Ed Ogle said: "If we had known you could help us get such a clear picture so quickly of where our contractor was taking this project, we would have brought you on board much earlier. Thanks for your help."
And one more: After preparing a major boiler outage bid for TEi, a Babcock Power company, Ted Grunenwald, VP of Operations, stated: "Thanks for your help with this estimate. We very literally could not have bid the job otherwise."
For further information, or a list of our clients, please contact us